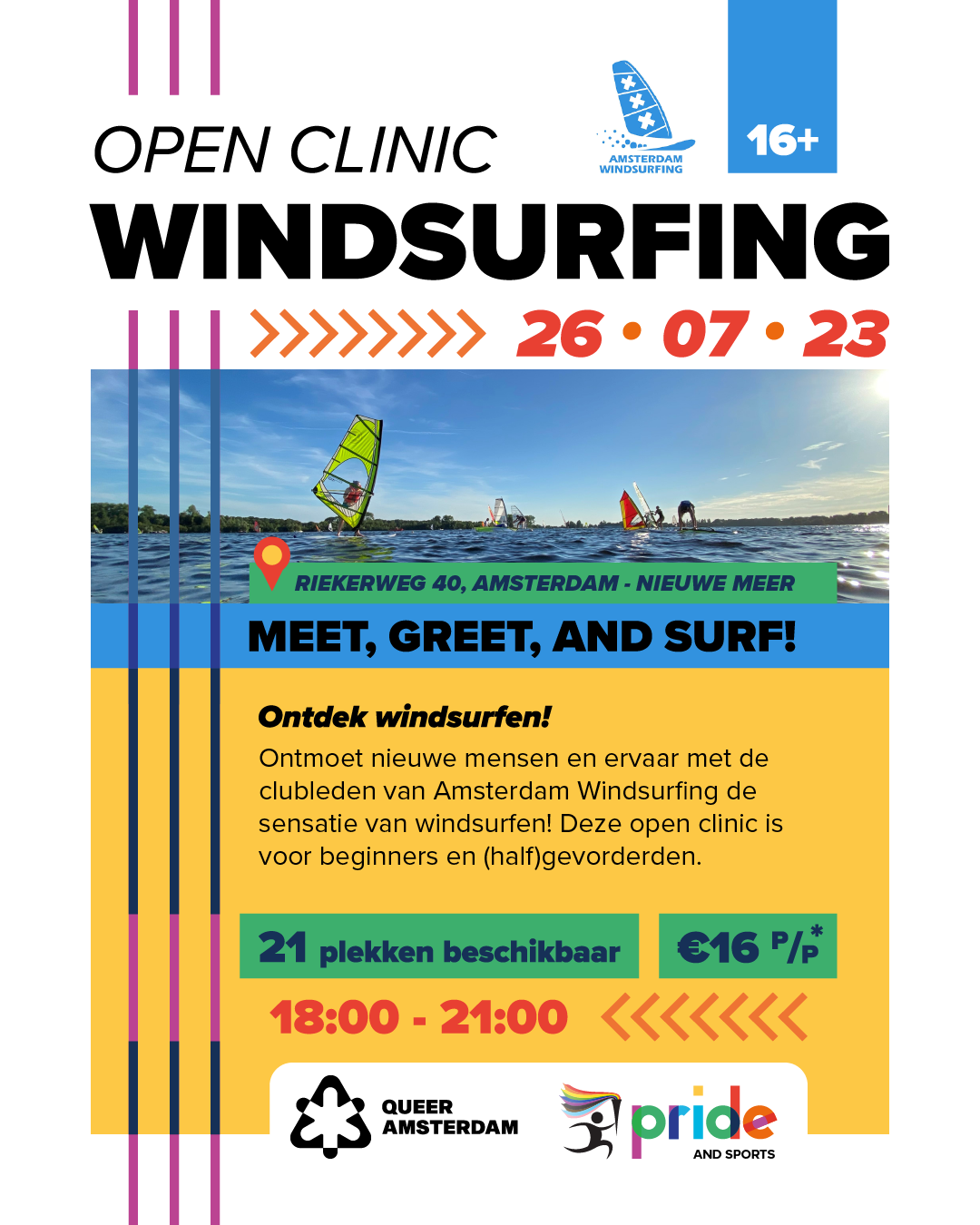 Windsurf Clinic: Meet, Greet and Surf is een kennismakings clinic met windsurfen voor beginners of half / gevorderen.
Deze windsurf clinic is voor iedereen binnen en buiten de  LHBTQ+ gemeenschap én voor onze clubleden van de vereniging Amsterdam Windsurfing. Ons doel is om een leuke mix van nieuwe mensen en bestaande leden samen te brengen voor ontmoeting en kennismaking met het surfen.
Thema: Meet, greet and surf aan de Nieuwe meer!
Onze windsurf clinic zal plaatsvinden op woensdag avond 26 juli van 18.00 – 21.00 uur
Locatie:  stadsdeel Nieuw West / Zuid aan de Nieuwe meer. adres Riekerweg 40
Onze doelgroep is iedereen vanaf 16 jaar met een zwemdiploma.
Er is plek voor max 21 deelnemers. We delen de groep in drie groepjes.
Aanmelding via Claire: info@sportip.nl of kijk voor meer info op de website: www.amsterdamwindsurfing.nl/agenda
Voor deze activiteit wordt een bijdrage in de kosten gevraagd per deelnemer van EUR 16,00,-.*) Deelnemers betalen deze EUR 16,00,- vooraf bij de bar, dit is inclusief materiaal huur en windsurfpak.
*) Mocht dit bedrag te hoog zijn voor jou en wil je toch heel graag meedoen, stuur dan een mail naar contact@prideandsports.nl dan proberen we samen naar een oplossing te zoeken.