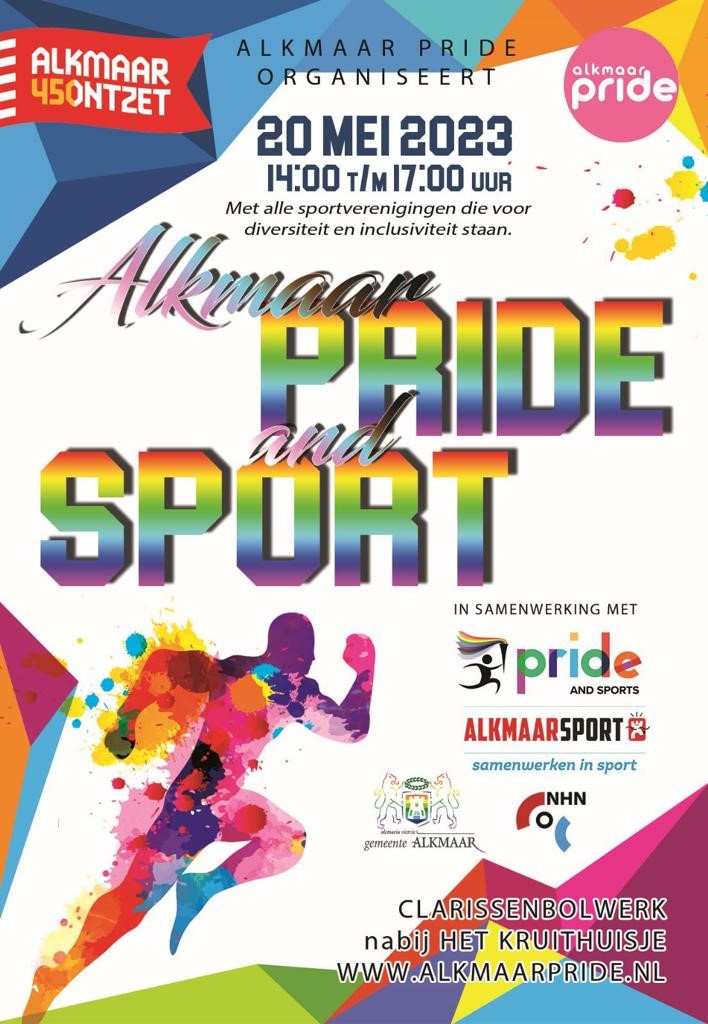 Op zaterdag 20 mei van 14.00 tot 17.00 uur vindt er een uniek sportevent plaats in het Clarissenbolwerk (nabij het Kruithuisje) in Alkmaar. Alkmaar Pride, die zich sterk maken voor diversiteit en inclusiviteit, slaat de handen ineen met verschillende sportverenigingen, COC NHN, Alkmaar Sport, Sport-Z en Stichting Pride and Sports om gezamenlijk een sportevenement te organiseren. Dit event is een gamechanger omdat het de aandacht vestigt op de mogelijkheden die sportverenigingen hebben om bij te dragen aan een inclusieve samenleving. Voor meer informatie kijk op www.alkmaarpride.nl
Het sportevent, dat plaatsvindt tijdens de pride week (20 t/m 28 mei), biedt een podium aan diverse sportverenigingen en geeft hen de kans om te laten zien waar zij voor staan. Het is een belangrijk moment om te laten zien dat sport een plek is waar iedereen welkom is, ongeacht gender, seksuele voorkeur, afkomst of religie.
De samenwerking tussen Alkmaar Pride, COC NHN, Alkmaar Sport, Sport-Z, Stichting Pride and Sports en diverse sportverenigingen zorgt voor een krachtige boodschap. Samen benadrukken zij dat iedereen zichzelf moet kunnen zijn, zonder uitzondering. Adrie Rotteveel, voorzitter van Alkmaar Pride, zegt hierover: "Met dit sportevent laten we zien dat sport een belangrijke rol kan spelen in het bevorderen van inclusiviteit en diversiteit. We zijn blij dat we samen met verschillende organisaties en sportverenigingen dit evenement kunnen organiseren en hopen op een grote opkomst. Het is tijd om te laten zien dat iedereen welkom is in de sportwereld, ongeacht wie je bent of wat je achtergrond is." Het is een boodschap die ook door de gemeente Alkmaar van harte wordt ondersteund.
Het sportevent biedt niet alleen de mogelijkheid om te sporten, maar ook om in gesprek te gaan met verschillende organisaties en verenigingen die zich inzetten voor inclusiviteit en diversiteit in de sport. Het is een laagdrempelige manier om met elkaar in contact te komen en van elkaar te leren.
Het Clarissenbolwerk wordt op 20 mei omgetoverd tot een sportparadijs waar iedereen welkom is. De organisatie hoopt op een grote opkomst van zowel sporters als toeschouwers. Want samen kunnen we laten zien dat sport een krachtig middel is om de boodschap van inclusiviteit en diversiteit uit te dragen.